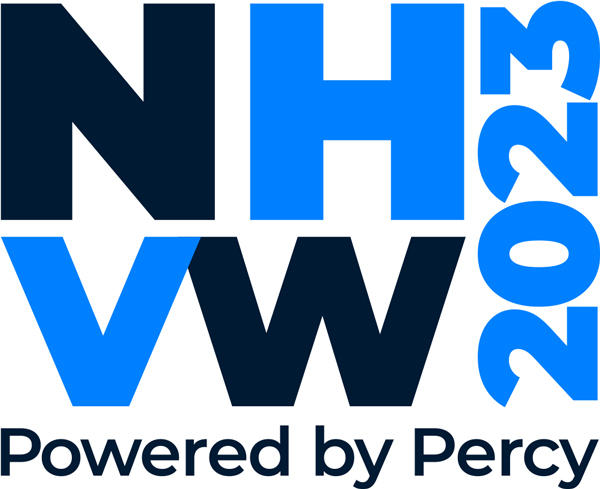 It's that time of the year again...time to get excited for National Home Valuation Week 2023!
Percy is thrilled to invite you to join us for a week of best-practice webinars, friendly competitions with prizes awarded to top contestants, helpful take-away marketing materials & more!
Register to save your seat here. Review all that NHVW 2023 has to offer below:
What is National Home Valuation Week?
During the Spring season, homeowners want home valuations more than ever. On top of that, they want valuations that are more informed than the estimates on popular home-search portals -- especially when estimates keep coming in at 10-15% above or below market.
National Home Valuation Week is the most opportune time for realtors and brokerages to connect with homeowners and discuss the real value of their home. It's an opportunity to build on your relationships and guide clients on their options with what will likely be the largest asset they own in their lifetime: their home.
During this 1-week event (register here), Percy empowers agents and their brokerage firms with best practices and marketing tools. Use them to strategically engage clients and drive more seller leads & inventory.
It's an event you don't want to miss! Join us and learn about the endless opportunity to capture, engage and WIN clients for life!
What's Included?
Competitions: Host friendly competitions within your brokerage to drive agent engagement and adoption of the Home Valuation Site. Find competitions that suit your team. Need ideas? We are here to help.
Best-Practice Webinars: Our Customer Success team will host daily webinars that include proven best practices on leveraging your Home Valuation site to win listings, unique ways agents are using Percy and tips & tricks to earn repeat business.
Marketing Materials: Make it easy for your agents by providing marketing materials and content. Percy has created editable mailers and images that are fully customizable to your business. Learn more under "Your HVS Marketing Kit" below.
Contests Hosted by Percy: Percy will host a competition that challenges agents: Who can engage the most clients using Percy's listing optimization tools? The three (3) categories are: 1.) Most Monthly Report Subscriptions, 2.) Most Home Valuation Reports generated, & 3.) Most Buyer Market Analyses (BMAs) generated.
Contest Prizes:

- 1st place winners:
Will receive a one-hour strategy session with Percy's CEO,
VP of Customer Success & Director of Education!
- 2nd place winners:
Will receive a $100 Amazon gift card!
- 3rd place winners:
Will receive a $50 Amazon gift card!
Schedule & Registration
All it takes is 1 signup! Enter your information to register here and your seat will be reserved for each webinar.
The week's schedule is as follows:
| | | | |
| --- | --- | --- | --- |
| 1. | Monday | April 3 @ 11 am ET | Kick-Off Session and 2023 Housing Market Overview |
| 2. | Monday | April 3 @ 1 pm ET | How to Leverage NHVW to 2x Your Listing Leads |
| 3. | Tuesday | April 4 @ 1 pm ET | From Agent to Advisor: Thriving in a Low Inventory Market with Equity Insights |
| 4. | Wednesday | April 5 @ 1 pm ET | Promoting your HVS: How Top Agents Leverage Social Media |
| 5. | Thursday | April 6 @ 1 pm ET | Winning Best Practices to DOUBLE Your Repeat Business and Referral Business |
| 6. | Friday | April 7 @ 1 pm ET | The Perfect Script: How to Run a Buyer Market Analysis |
Your HVS Marketing Kit
As part of National Home Valuation Week 2023, participants will receive a marketing kit to help advertise Home Valuation Sites. Among other materials, the kit will include:
Postcard images ...plus expert tips on crafting your message!
Email templates for contacting any homeowner
Email templates for contacting valuation-attempt leads from Percy
Best practices: incorporating your QR Code with postcards, mailers & leave-behinds
Register here to get your download-ready HVS Marketing Kit!
Webinar Recordings
All webinar recordings will be available in Percy University. We highly recommend you bookmark percy.university.ai and continue to visit throughout the week (and throughout 2023!).
When viewing the recording, the presentation deck will be available as an attachment on the top-right of the screen.
Monday, 4/3 -- Kickoff Session & Market Overview: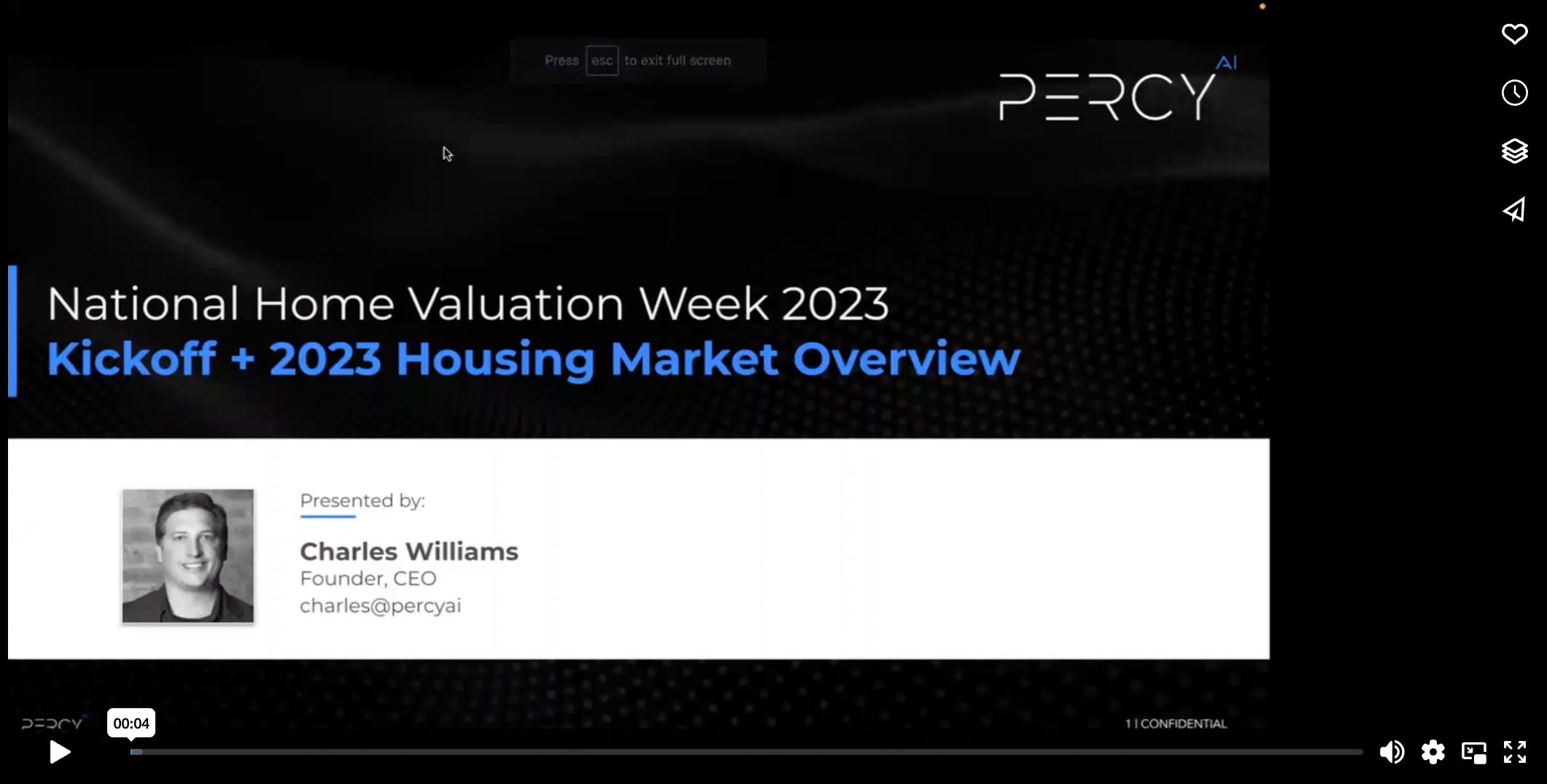 (Watch recording here)

Monday, 4/3 -- How to 2x Your Leads: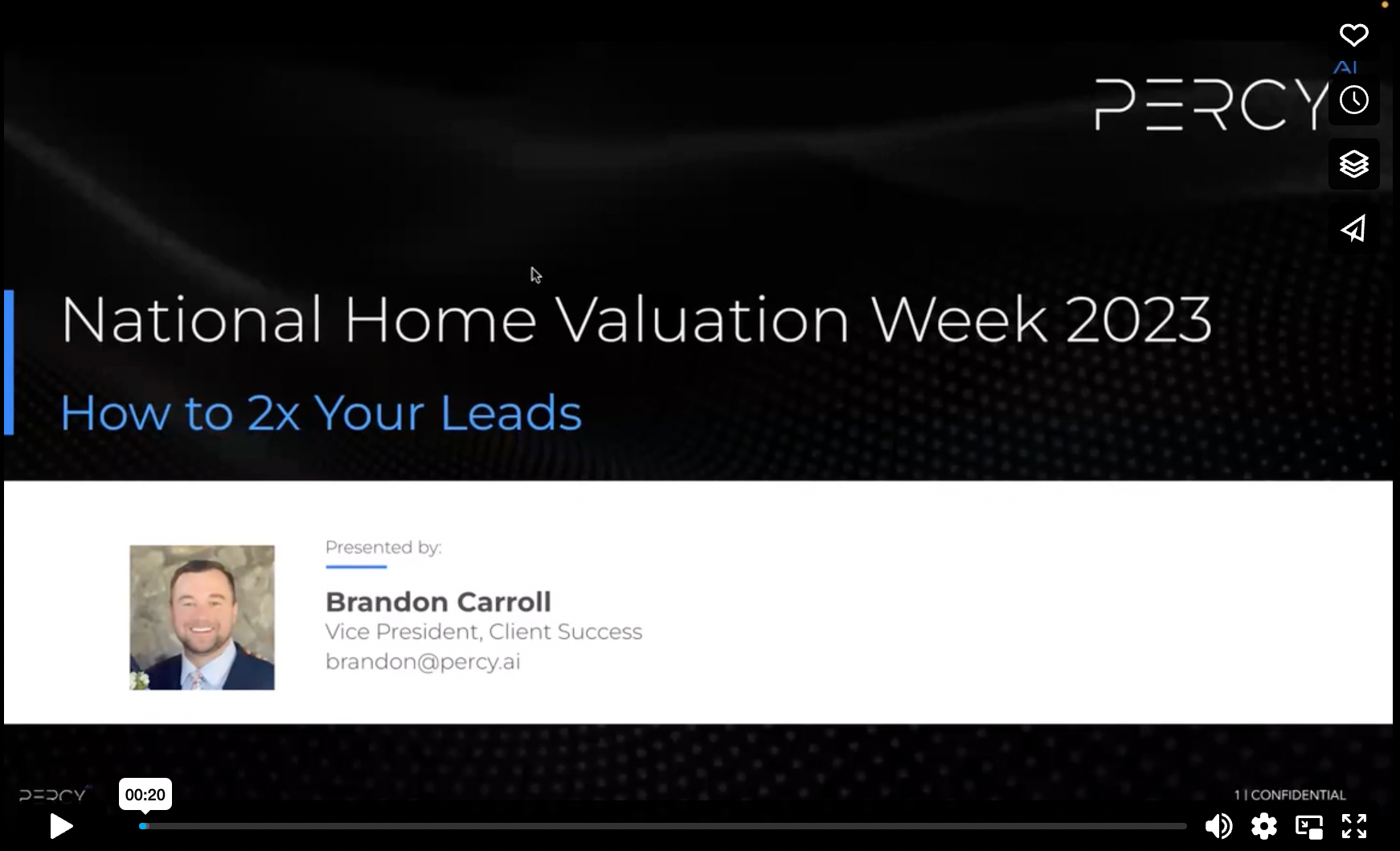 (Watch recording here)
Tuesday, 4/4 -- From Agent to Advisor: Thriving in a Low Inventory Market with Equity Insights: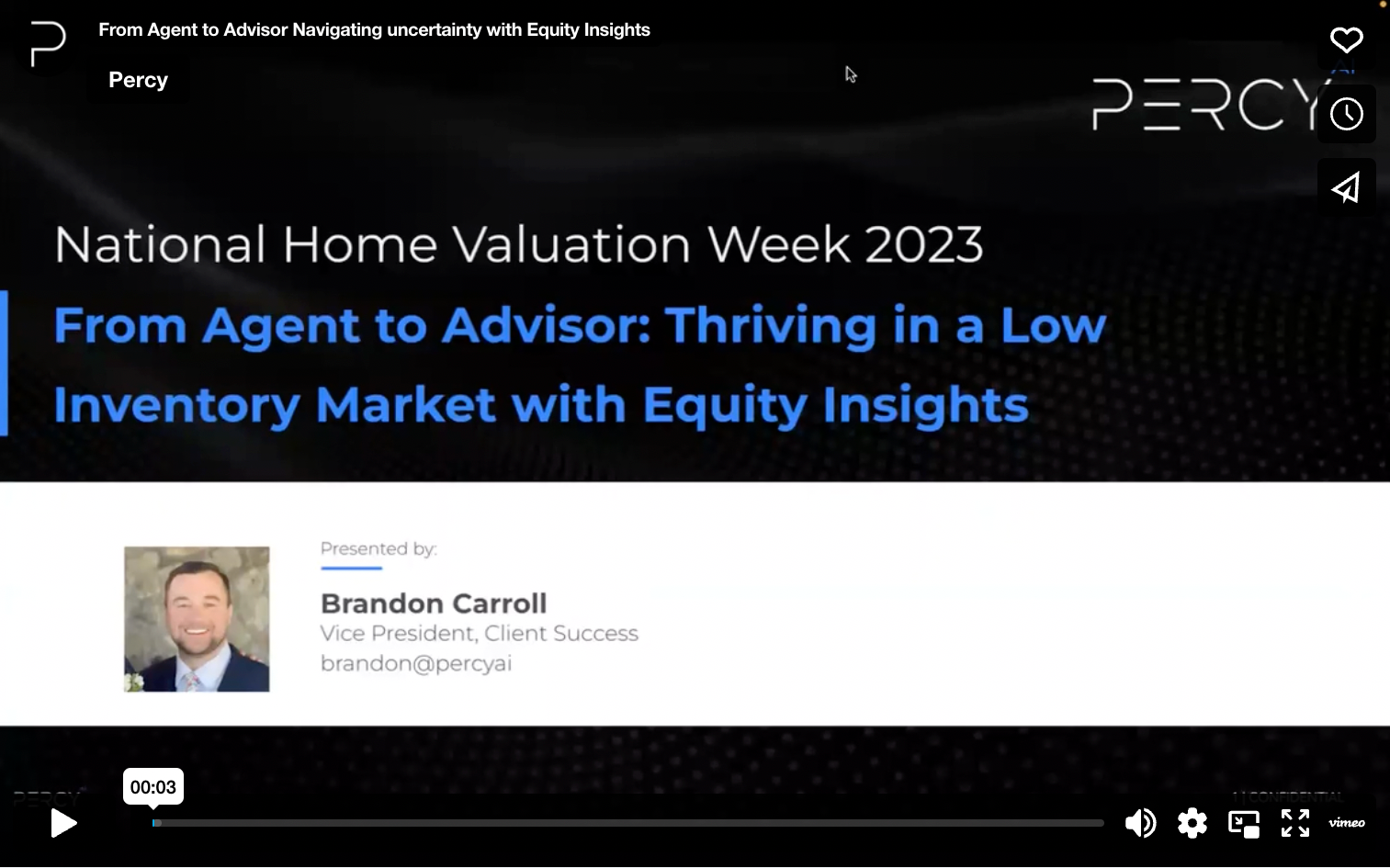 (Watch recording here)
Wednesday, 4/5 -- Promoting your HVS: How Top Agents Leverage Social Media: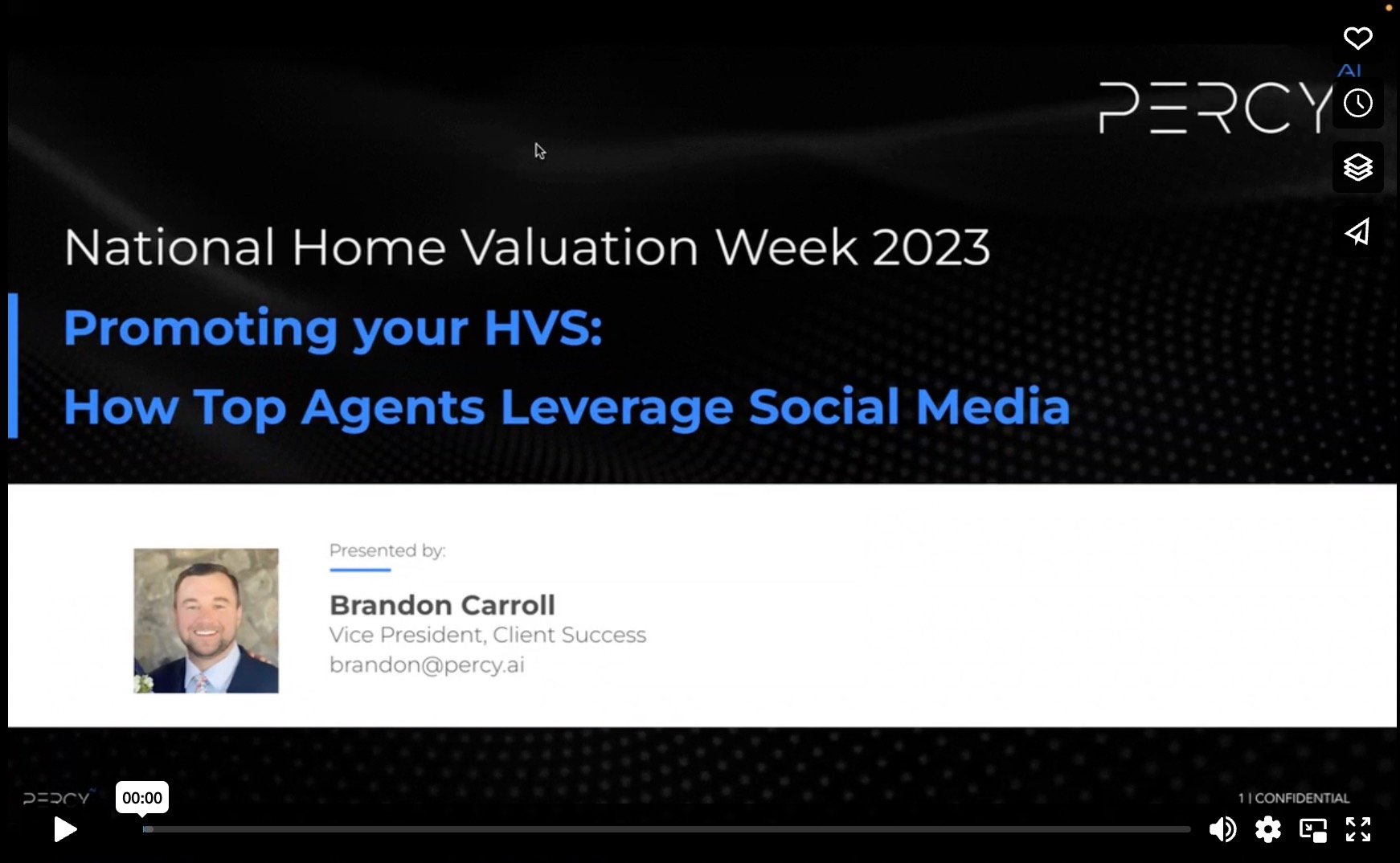 (Watch recording here)
Thursday, 4/6 -- NHVW: Winning Best Practices to DOUBLE Your Repeat & Referral Business: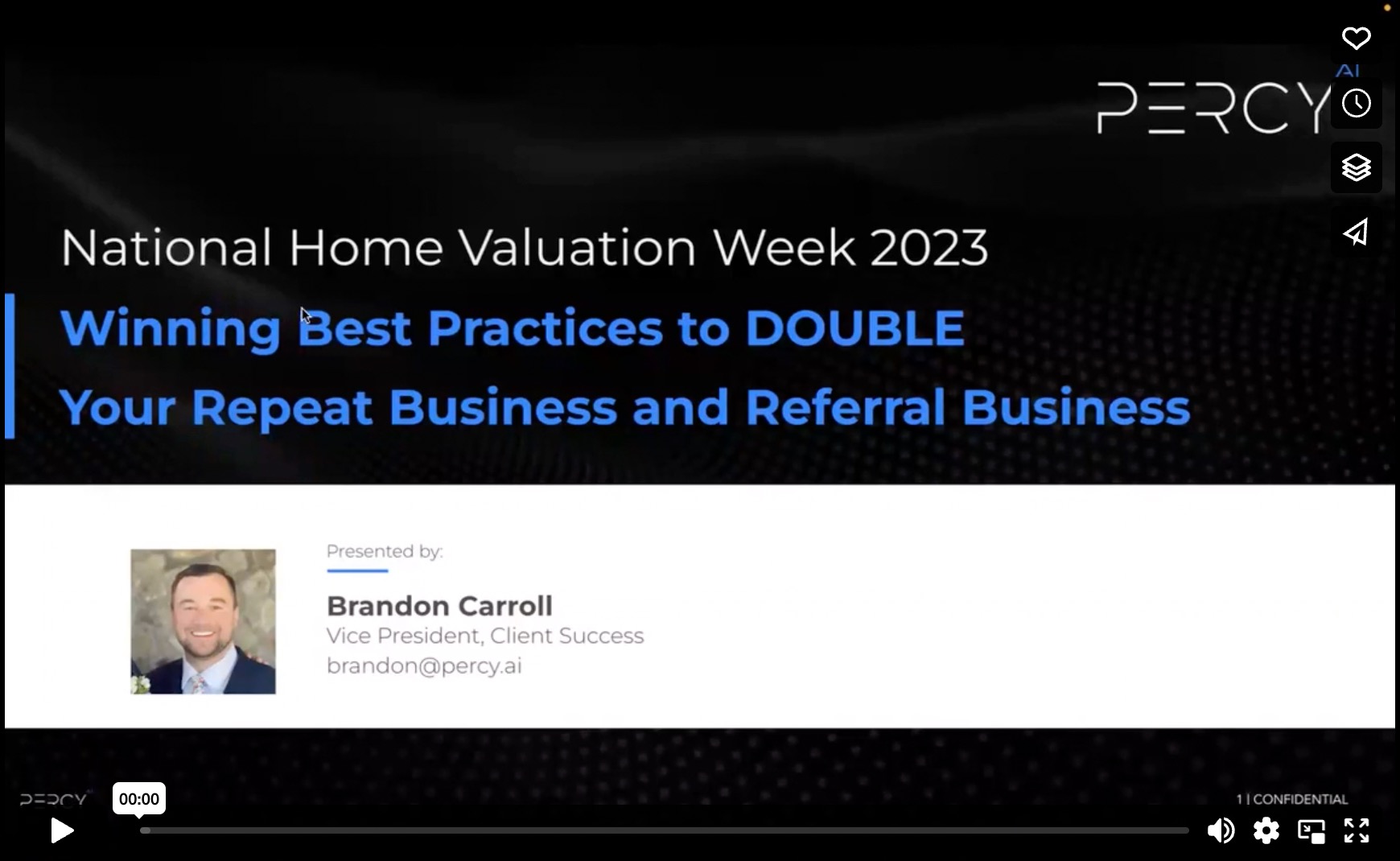 (Watch recording here)
Friday, 4/7 -- NHVW: The Perfect Script: How to Run a Buyer Market Analysis: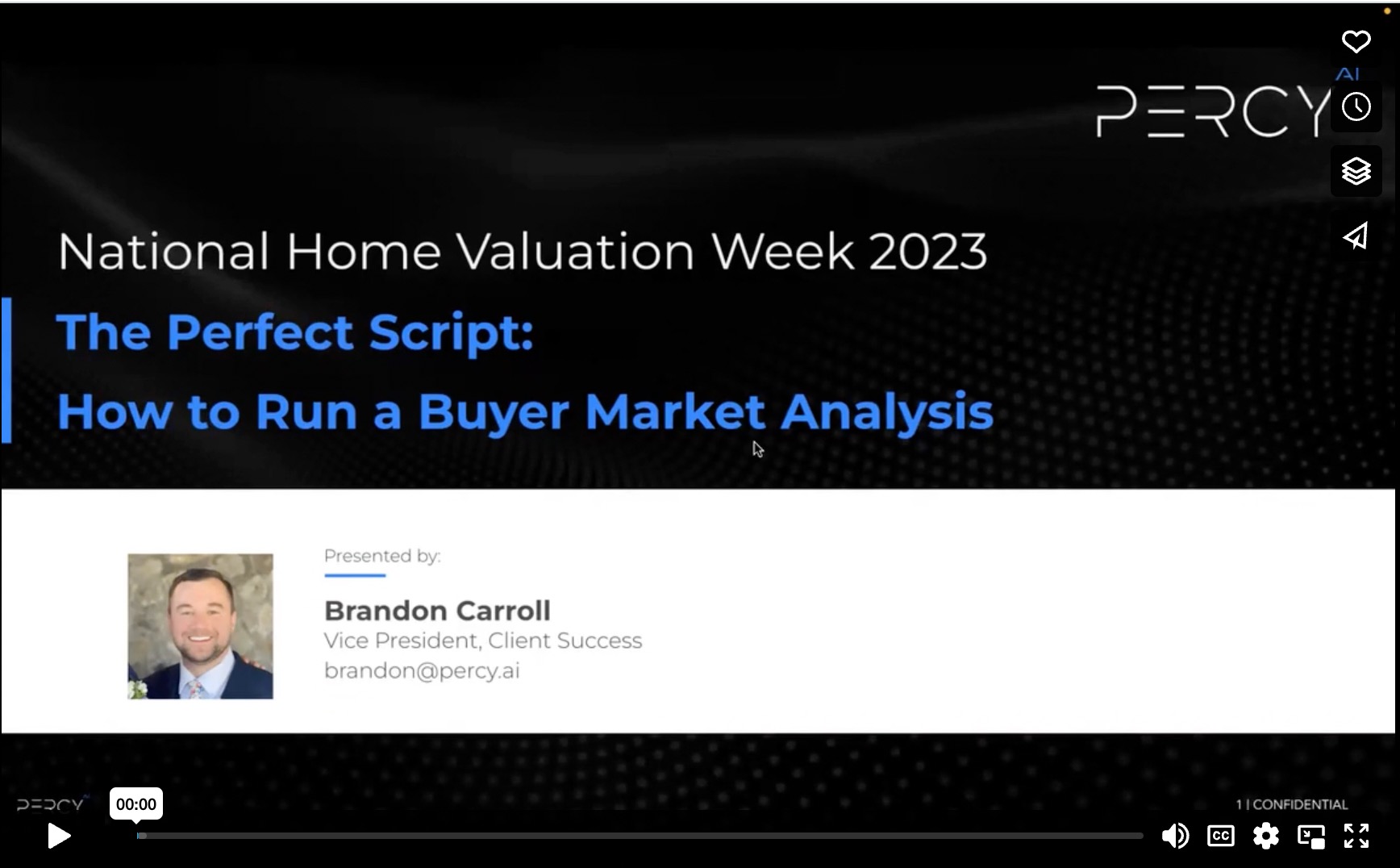 (Watch recording here)