-   The PercyHome Report - Overview
-   Becoming the Knowledge Broker
-   The PercyHome Report: Introduction (downloadable 1-Pager)
-   The PercyHome Report: E-Book (downloadable E-Book)
The PercyHome Report - Overview
The PercyHome Report -- or, the insights provided when an address is entered on your PercyHome site -- serves multiple purposes.  Built with the agent and brokerage in mind, the Report helps create homeowner-agent rapport via a monthly subscription. 
By providing FAR more than 1 simple valuation, it overloads the homeowner with actionable insights.
For example:  A homeowner is scrolling through their PercyHome Report and they notice that they live in a very active area, but it's also winter and the market is supposed to be slow.  While the insights provided are incredibly valuable, they may cause some confusion, ultimately leading the homeowner to ask an agent for some advice.    ... And who better to contact than the agent providing the data!!!
Becoming the Knowledge Broker
The PercyHome Report also enables the agent (or brokerage) to become the homeowner's "Knowledge Broker".  Percy is uniquely positioned to pull from more data sources than anyone on the market.  This enables the market insights and graphs to be populated with powerful, real-time information.
As a homeowner begins the process of looking to sell their home, they almost always perform their own research first.  Once they realize that your PercyHome Report is the only place they can get all of this market information plus multiple automated valuations in 1 location, the homeowner will sign up for a monthly update.  Once they do, you become their dedicated market expert and knowledge provider.  
Make sure to log-in to Percy, review who your monthly subscribers are and include them on any additional mailers you send out to your network!
The PercyHome Report: Introduction 1-Pager (Click here to download)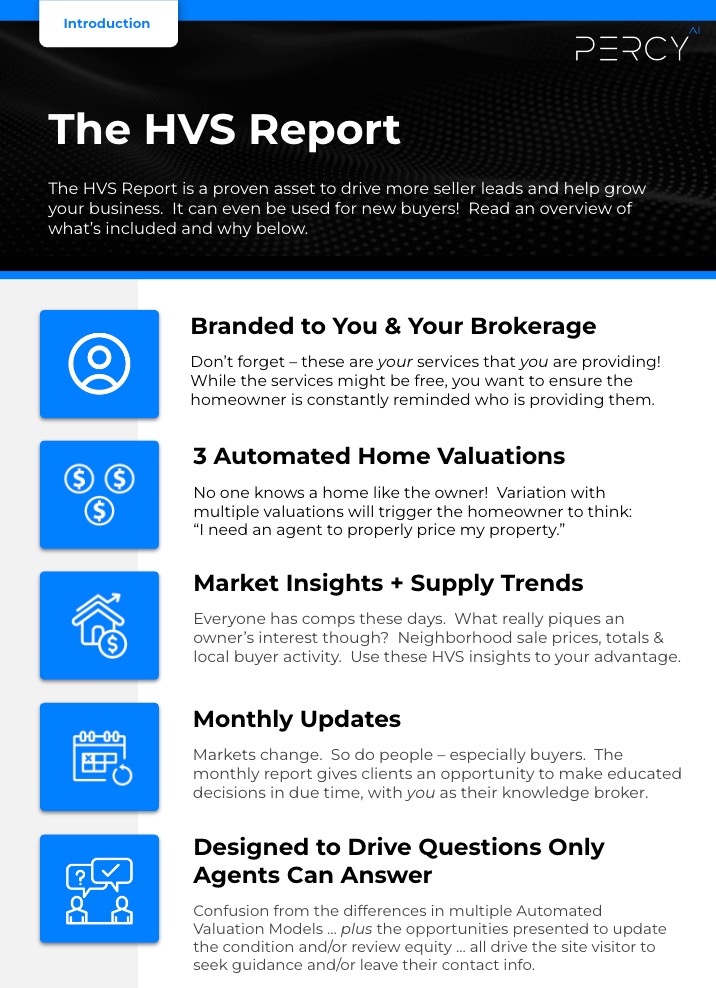 The PercyHome Report: E-Book (Click here to download)