Equity puts the agent in position to be a homeowners financial advisor. It's also a great way to partner with lending officers or mortgage consultants and showcase their services!  If your organization has purchased the Equity portion of the PercyHome, Percy will pull from publicly available data and fill out numerous tools and calculators, complete with actionable financial tips and advice. 
-   How it Works
-   Equity Tools Included
-   Partnering with Lending Officers & Mortgage Consultants
-   Using Equity: Tips & Best Practices
-   The PercyHome Report: Equity (downloadable 1-Pager) 
How it Works 
If your organization has the Equity portion of the Home Valuation Site with Percy, your PercyHome Reports will pull from public data to populate a wealth of equity tools, tips and mortgage information.  
Once you reach the Equity portion of the Report, the homeowner is immediately met with actionable information: Current Home Equity, plus an equity calculator:

As an added bonus, the "How is this calculated?" Link will say exactly how the number was calculated and where the data came from.
Equity Tools Included
In addition to the Equity In Your Home number, there are a handful of mortgage tools designed to get the homeowner curious about selling.  
Next, a 'What You've Paid So Far' chart, breaking down Principal Paid vs Interest Paid: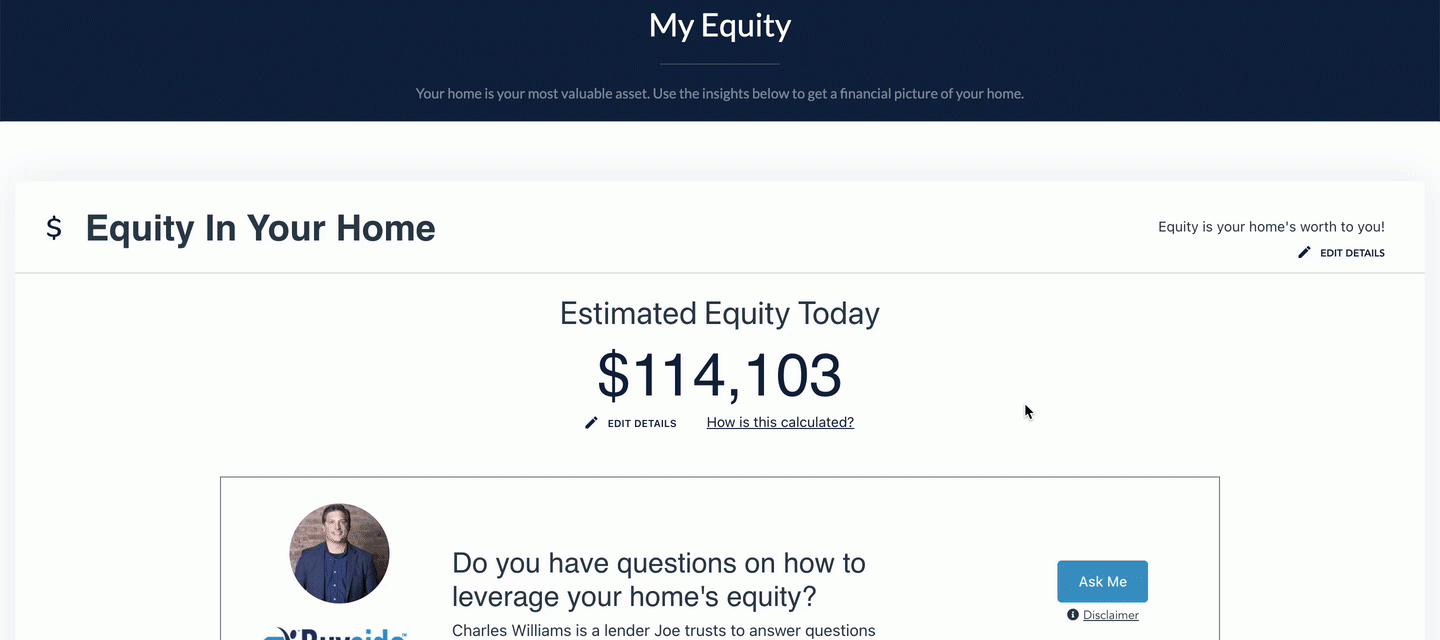 Again, the tool explains how the numbers were calculated and provides a disclaimer.  Report viewers can hover to get a visual breakdown of Principal Paid vs. Interest Paid.
Below, a Sales Proceeds Calculator is designed to have homeowners contact your lending partners: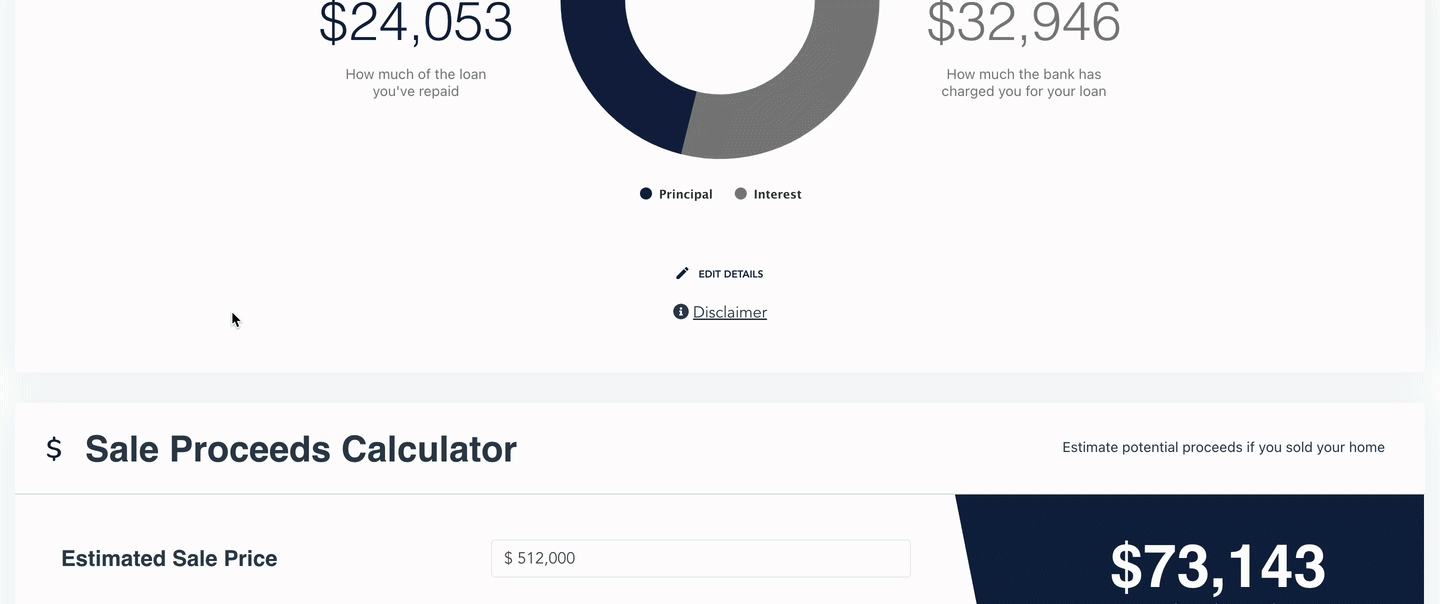 If information is entered, your lending partner (or mortgage specialist) will get an email.  You will be CC'd on it for awareness purposes
Equity also shows what the homeowner's Refinance Options will look like based on current rates:

On the other end of the financial spectrum, Equity also offers a Pay a Little Extra tool:
As homeowners slide the scale, they may be incentivized to pay off their mortgage early to avoid large interest sums.
Finally, the Using Your Equity tool offers benefits to both the agent/brokerage and the lending officer:
1.   It positions the agent as a financial advisor, building trust in the relationship.
2.  It provides pages-worth of actionable financial tips, possibly incentivizing them to take action with the lending officer whose information is provided.
Some of the Using Your Equity tips involve whether or not to 'Buy a New Home', 'Buy an Investment Property', 'Pay Off Credit Card Debt', 'Sell & Pocket Cash' ... and more!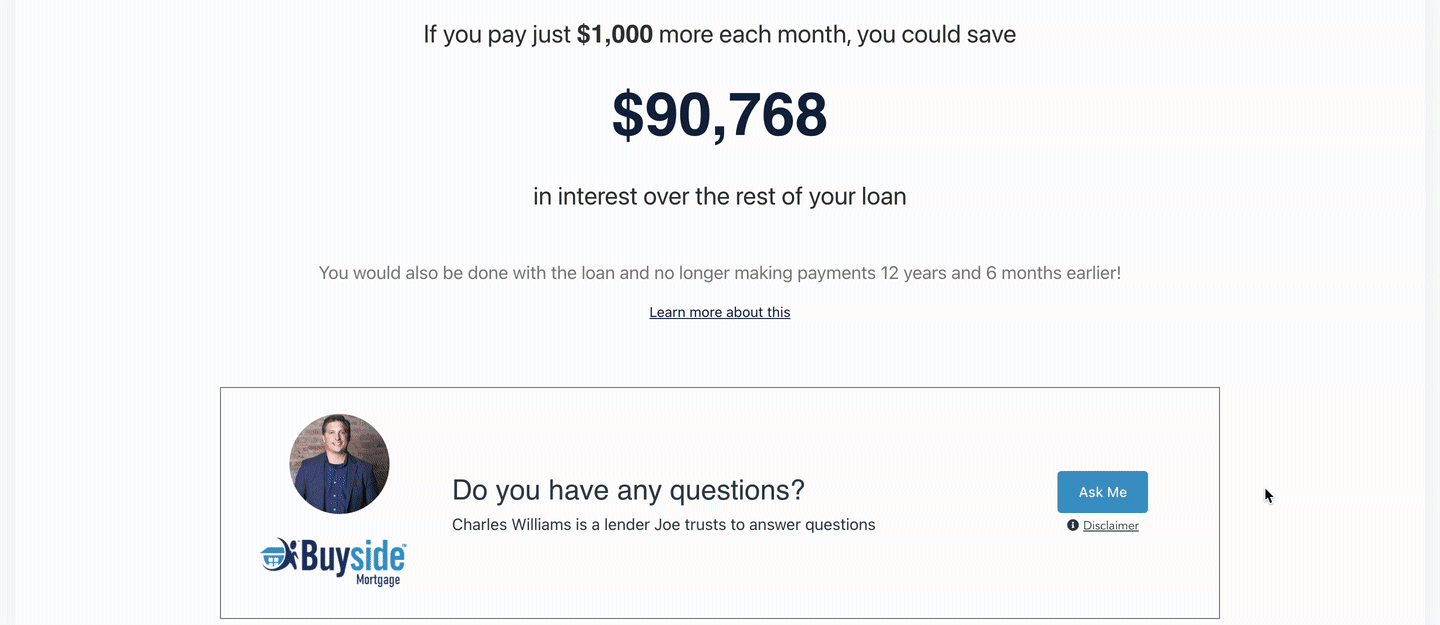 To summarize, Equity provides the following interactive tools:
-   Equity In Your Home 
-   What You've Paid So Far
-   Sales Proceeds Calculator
-   Refinance Options
-   Pay a Little Extra 
-   Using Your Equity
Partnering with Lending Officers & Mortgage Consultants
The PercyHome Report's Equity offering provides the perfect crossroad to partner with mortgage consultants.  Use it to demonstrate the power of your combined networks and assets throughout the home selling (or buying) journey.
Aside from the 'What You've Paid So Far' tool, every single tool in the Equity section provides an opportunity to contact the lending officer or mortgage consultant:

If they do, an email will get sent to lending officer with the agent/brokerage CC'd.
Using Equity: Tips & Best Practices
The Equity tool is designed to be a mutual benefit for all parties -- homeowner, lender and agent/brokerage.  However, because the tool is designed to contact a lending officer to help navigate finances, that is where the lead will go: the lending officer.
For agents and brokerages → We HIGHLY recommend reviewing the details within any email you are CC'd on.  The individual seeking assistance might not be the homeowner at all:
Upon submitting their information, the PercyHome Report viewer must declare if they are a: Buyer, Seller, Buyer & Seller, or Broker/Agent.  
Work with your lending partner to understand their situation.  Follow up with the Lead to offer your services.  If they are a Buyer, add them to Percy!
Pro Tip:  When following up with Equity Leads via email to inquire about their circumstances, send them a BMA of the address for which the form was submitted.  Showcase your brand and brokerage!
The PercyHome Report: Equity 1-Pager (Click here to download)